SWSoft Makes Hosting Web Sites Profitable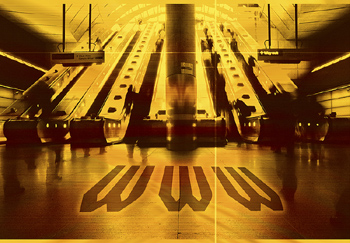 If you're wondering how to get into Web hosting with its frog's hair thin profit margins, you may want to consider a comprehensive automation package since lots of customers and minimal labor per customer are essential. One such hosting automation software company is SWSoft.

SWSoft's Plesk control panel has street cred. Used by more hosting service providers than any other control panel software, Plesk powers over 50,000 Linux, FreeBSD, Unix and Windows servers in 100 countries, managing over 4 million domains.

Like MS Office or any other veteran software package, Plesk has grown feature-heavy and might well overwhelm novices. But, in its latest release, SWSoft attempts to address this potential problem.

Plesk 7 Reloaded, a major overhaul released July 15, adds over 50 new features to this market-leading package. More importantly, it flattens the learning curve for new hosting service providers and their self-service customers.

New SWSoft customer Gynyx testifies to the ease and efficiency of Plesk and its sister applications: "Gynyx is the newly launched [Sept. 7] hosting division of Network Enhanced Telecom, formed in April 2004," explains Josh Crouch, operations director for Gynyx. "NET was founded in 1998 to market converged telecom platforms, prepaid calling cards and high-speed data services to cable companies."

"I worked briefly for a ColdFusion development company that was giving its customers away to hosting firms," adds Adam Hailey, Gynyx's product manager. He returned to NET with a fresh idea.

"I said, 'Hey, let's host our own customers and be a managed services provider!' Hailey provided the network development and administration. "We initially used Helm management software, which wasn't fully blown or customizable. It was high maintenance."

Hailey and Crouch turned to the Webhostingtalk.com forums for recommendations. SWSoft's suite of products was the favorite response.

"The HSPComplete package bundled with Plesk looked good to us," says Crouch. "We can support thousands of customers with two to three employees. It integrates the control panel, billing, provisioning and other modules all in one package, and everything is automated. "

"Cpanel, in contrast, requires multiple modules from four or five different companies" to deliver comparable functionality. Gynyx opted for a 300-domain HSPComplete license and a Plesk license for virtual servers running on a single physical server.

"The price was around $10,000, but the benefits far outweigh the cost," says Hailey. "We got full automation, a fast learning curve, great support and documentation. It all helped us get into business faster. We had two or three days of training, and were up and running within two weeks. Another plus is that all products are 100 percent brandable.

"We can change the code to reflect Gynyx's color scheme, logo, etc. We can bundle ISP resellers into the system so that their customer thinks he's buying from his local ISP. We will also market to Web developers who are giving away customers to hosting firms."

Established hosting services can easily migrate to Plesk Reloaded thanks to the new Migration Manager wizard optimized for older Plesk systems, in-house systems, cPanel, Ensim or Cobalt control panels.

"This latest version of Plesk focuses on vital enhancements that our community has demanded but are not available through other control panels on the market," said Travis Schaffner, CTO at Fastservers.net. "Plesk 7 Reloaded takes a giant step forward in overall scalability and compatibility with our system, and we're looking forward to an increasing presence of Reloaded in our production environments."

You get what you pay for, and in the hosting business, time is money. SWSoft seems to have that equation optimized for newcomers and old hands.