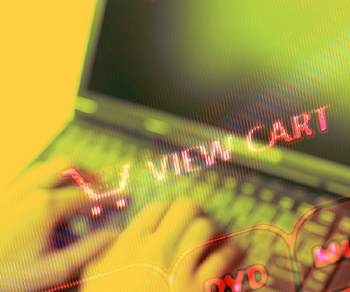 It's been nearly a year since I brought home my newly minted domain. It was so cute. Swaddled in ones and zeros, cuddling its domain suffix. I loved it. It was mine, and I had Yahoo! Small Business to thank for the rock-bottom price ($9.95 a year per domain) and easy setup.
In the past 12 months, I've watched my precious domain do little more than act as a placeholder for my future Web site aspirations. Oh, we had our trials and tribulations. First, there was the time when readers took me to task for using Yahoo!'s service and praising it when there were so many other praiseworthy domain hosting services out there, such as Homestead and 1&1. My domain and I took their slings and arrows as best we could. We knew that Yahoo! was not the only game in town, but it certainly could serve as a model for those looking to bring home their own fresh domains with minimal fuss and expense.
All was good.
Just three months later and without much warning, the jig was up. A company named Internet Listing Service Corp. (www.ilscorp.net) sent me a letter. It included my domain name, customer number, and a notice date. It contained words like "listing" and "final," and it seemed to know more about me than it would if it were just a casual business pitch. The question was how would anyone except Yahoo! know which domain I had purchased, and when? The notice was designed in such a way as to make me think that I had to pay a fee to maintain my domain ownership. My little domain squirmed in my virtual arms. I tried to settle it down. "No, Dotty (my little pet name for it), no one's gonna take you away."
I looked closely at the note, and while it was suspiciously personal, I soon realized that ILScorp was actually trying to get me to sign up for a $35-a-year search-engine listing service. I wasn't interested. My domain was not nearly mature enough for the rest of the world to see. I patted Dotty's little HTML header and put it to sleep, both of us comforted by the fact that this had all been a simple misunderstanding.
Another two months passed and I received a second unexpected letter. Memories of the last, vaguely sinister missive made me squirm.
This note came from the official-sounding Domain Registry of America. There was even the partial image of the American flag behind the name. I felt the need to salute. Again the company knew my name and the domain I had registered under Yahoo! Small Business. It knew when I bought it and when it was up for renewal. Again the language was strong and cautionary: "You must renew your domain to retain exclusive rights to it on the Web, and now is the time to transfer and renew your name from the current Registrar to the Domain Registry of America." It also said my domain would expire in a few months, even though it was only April (I had purchased "Dotty" in August 2004).
This was serious. I was about to lose my still-young domain. I had to act fast.—Continue Reading
I couldn't believe it. Yahoo! Small Business had led me to believe that I owned that domain fair and square for a year and that renewal would be easy—perhaps I wouldn't even have to do anything. Now this. I felt betrayed and stupid. My readers were right. I had made a bad choice. Had I missed the fine print? All I knew was that I now had to act fast to save Dotty.
I scanned the Domain Registry of America letter again. The company wanted $25 to host my domain for the next year. I flipped the letter over and the entire back of the sheet was filled with the tiniest of fine print. I began to read, trying to better understand the legal gobbledygook.
My head hurt trying to focus on the sub-4-point typography. I did manage to pick up this one boldfaced line: "Domain Registry of America is not affiliated with or endorsed by the government of the United States." This wasn't surprising. The rest of the fine print was about the company's domain-registry service.
I was so confused. Had Yahoo! done with my domain what my mortgage company had done so many times before with my mortgage, sold it to another company? Had Yahoo! severed our relationship without so much as a good-bye to me and my domain? I put the letter with the first one from ILScorp, walked away, and forgot about it for a few days, figuring I would deal with this mess later.
A week or two passed, and I decided to check my Yahoo! mail account. It's one of my oldest free-mail accounts (I have at least half a dozen). At the top of my inbox, I noticed a note from Yahoo! Small Business. The subject read: Consumer Alert.
Apparently, Yahoo! had heard about the letters and explained:
"It has been brought to Yahoo!'s attention that several companies have mailed confusing domain expiration notices and renewal solicitation notices to domain holders such as yourself. Yahoo! is providing this alert to be sure you understand that these notices are solicitations and that you are not required to respond to renew your domain."
The Yahoo! e-mail went on to explain that I didn't have to do anything to renew my Yahoo! domains. Unless I changed something, I would be billed automatically for the next year, and I would continue my domain ownership.
So, Yahoo! Small Business isn't a crummy service after all. I now realize that these other companies used Whois and other public-record sites to access Internic's domain registration database. They gather information about new Web sites, who owns them, and when they expire, to access potential new clients.
It turns out that virtually any company you use to register your domain will register it for at least a year—period. No one is selling dot-coms for a fiscal quarter. Also, you can hide your identity—something I did not think about—when you register your domain. Anonymous registration will not in any way hinder your domain ownership, but it will hide your name, home address, and other personal information from prying eyes. Yahoo! offers this feature, but it charges an additional $9 for the service.
My little domain and I are still together and are looking forward to Dotty's first birthday this month. I plan to celebrate by breaking out my copy of Dreamweaver and working on a few of Dotty's pages. I'm not sure of the size, color, or CSS coding, but I hope Dotty will like my choices. After all, Dotty and I are going to be together for a long, long time.
Discuss this article in the forums.
More articles from Lance Ulanoff:
Copyright © 2005 Ziff Davis Media Inc. All Rights Reserved. Originally appearing in PC Magazine.